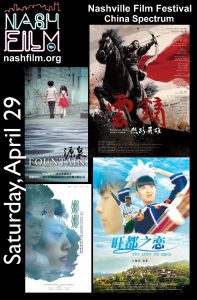 近年来,纳什维尔电影节每年接待来自中国的电影代表团。本月底纳什维尔电影节特别邀请纳城华人协会和华人社区参加"中国专场"活动,欣赏中国影片以及范德堡大学舞蹈团和纳城华人文化俱乐部表演的精彩民族舞蹈。该场活动对外开放,不收门票。
Nashville Film Festival China Spectrum
Nashville Film Festival has been hosting Chinese film delegations for the past several years. At the end of this month, the Nashville Film Festival is inviting Greater Nashville Chinese Association and the Chinese community to participate the "China Spectrum", enjoy Chinese film exhibition show and ethnic dances by performers from VanDiva and Nashville Chinese Cultural Club. The event is open to the public and admission is free.
日期 Date: April 29, Saturday
地点 Location: Regal Hollywood 27 at 719 Thompson Lane, Nashville
中国专场颁奖仪式 China Spectrum Awards Ceremony: 1:30-2:15 p.m.
丝路英雄 Silk Road Hero: 2:30-4:15 p.m.
望都之恋 The Love of Drum: 5:00-6:45 p.m.
源泉和娜娜 Fountain & The Good Samaritan: 7:30-9:15 p.m.