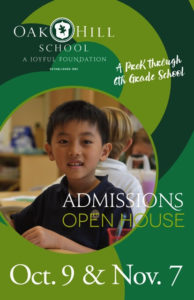 Dear GNCA Families and Friends,
We are so honored to announce that Oak Hill School, a PreK through sixth grade school for boys and girls, is the new Platinum level sponsor for the Greater Nashville Chinese Association.
Oak Hill School understands that every child is unique and proudly welcomes families, faculty and staff of all racial, ethnic and cultural backgrounds, valuing the range of experiences that form the school community. With a dynamic curriculum, exceptional instruction and high achievement as an expectation, an Oak Hill School education fulfills children's curiosity and instills the values of academic rigor, service and character. The school's student-centered academic approach creates an environment where students establish themselves as leaders, creative problem solvers and collaborative learners, all while becoming persons of integrity grounded in Christian morals and virtues. Oak Hill School provides a joyful foundation for your child's future success.
"We are excited to build a lasting partnership with the members of the Greater Nashville Chinese Community," Todd Counter, director of admissions at Oak Hill School, said to us at the annual Mid-Autumn Celebration. He welcomes the GNCA community to visit and hear about the academic excellence and culture of Oak Hill School at their Admissions Open House, scheduled for October 9, at 10:30 a.m., or November 7, at 11:45 a.m. You are also invited to take a personal tour at any time. Please contact Oak Hill School at (615) 298-9596 to schedule.
GNCA's mission is to share educational resources, Chinese heritage and cultural with both the Chinese and other ethnic groups in the Middle Tennessee communities. The partnership with Oak Hill School will bring more educational resources to the Chinese community as well as culture understanding among local communities in the Nashville area.
Greater Nashville Chinese Association