——纳城交响乐团音乐家协会通讯文章节选
上期"华人之声"刊登纳城交响乐团向社区募捐的公开信后,华人社区陆续有群众响应号召送去爱心。不久前乐团代表小提琴手Laura Ross, 大提琴副首席张晓帆,贝司手Matt Abramo,乐团中提琴副首席杨树争太太李莉(华人资深钢琴教师),与华联会主席郝晶,期刊总编苏洁,华联会外联理事黄正,音乐园地责任编辑毕佳进行了网络座谈,座谈记录由Laura Ross整理后刊登在音乐家协会月刊上,现摘录于此。Laura 用了"音乐桥梁"这词,相当贴切,音乐让我们华人社区与主流社区紧密相连,起到了它真正的作用。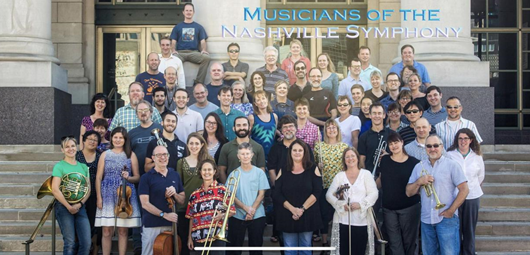 …….
As the pandemic hit, Dr. Bi, a season subscriber to the Nashville Symphony of many years, saw how the musicians who perform the music she loves were also suffering, so she decided to help because, she said, "As a citizen and music lover I felt it was my duty."
…….
Dr. Bi, who never played an instrument herself, credits much of her love for music to being around her son's music teachers, especially—Marilyn Tolk, Amy Dorfman, NSO musicians Bradley Mansell (cello) and Jessica Blackwell (violin), and close friends Li Li and Shu-Zheng Yang—by talking with them and learning about music; it has become a huge part of her life. Dr. Bi has also written insightful concert reviews after attending NSO performances; she explained that after all her son's lessons, getting to know musicians and attending their concerts, she wanted to share her thoughts to hopefully inspire others to attend and feel the power of music as well. She now misses attending concerts and seeing others who also enjoy the concerts.
GNCA wants to help and recently began supporting our activities in their Journal. They believe the musicians and the Nashville Symphony are very important to middle Tennessee and their community. The Chinese community has many music lovers whose children play instruments and take lessons; these are the next generation of musicians and audience members. GNCA hopes the Asian community—its children, young musicians, music loving parents—will have more connection with the mainstream music community.
During our discussion, Hao Jing suggested that if anything positive had come from COVID, it was the ability to bond with musicians and their music; they expressed hope that it would continue in the future. Jessica Su and Prince Huang offered suggestions about how the GNCA journal could help by featuring musician and student interviews, concert announcements, and video performances. Cellist Xiao-Fan Zhang, who has worked with GNCA in the past, will be featured in their upcoming Chinese New Year celebration on February 6. He said, "Though Nashville is known as a country music town, we have a world-class orchestra, and the audiences are very diverse with a big age range: children, college students, every age."
……
Li Li Yang added, "Unlike most other countries, the US government does very little to fund music. When disaster happens, our people step up, which is a beautiful way to build bridges. Shu-Zheng and I teach students and see how important music is to growth. As a community member, I think this is a wonderful way to help save the world, especially for our younger generation." She pointed out that the Nashville Symphony has changed drastically, and for the better, since she moved to Nashville 30 years ago. "The Symphony cannot come back without community support."
As musicians, we hope the Nashville Symphony will reach out to GNCA to help spread the word about supporting the musicians and the Symphony, and to work with more of middle Tennessee's diverse communities to build bridges. This conversation is the first step to building a new bridge.
作者:毕佳