Dear GNCA Friends and Families,
As the spring arrives again Greater Nashville Chinese Association (GNCA) is happy to announce an exciting Chinese cultural event for GNCA families and friends.
Duanwu Picnic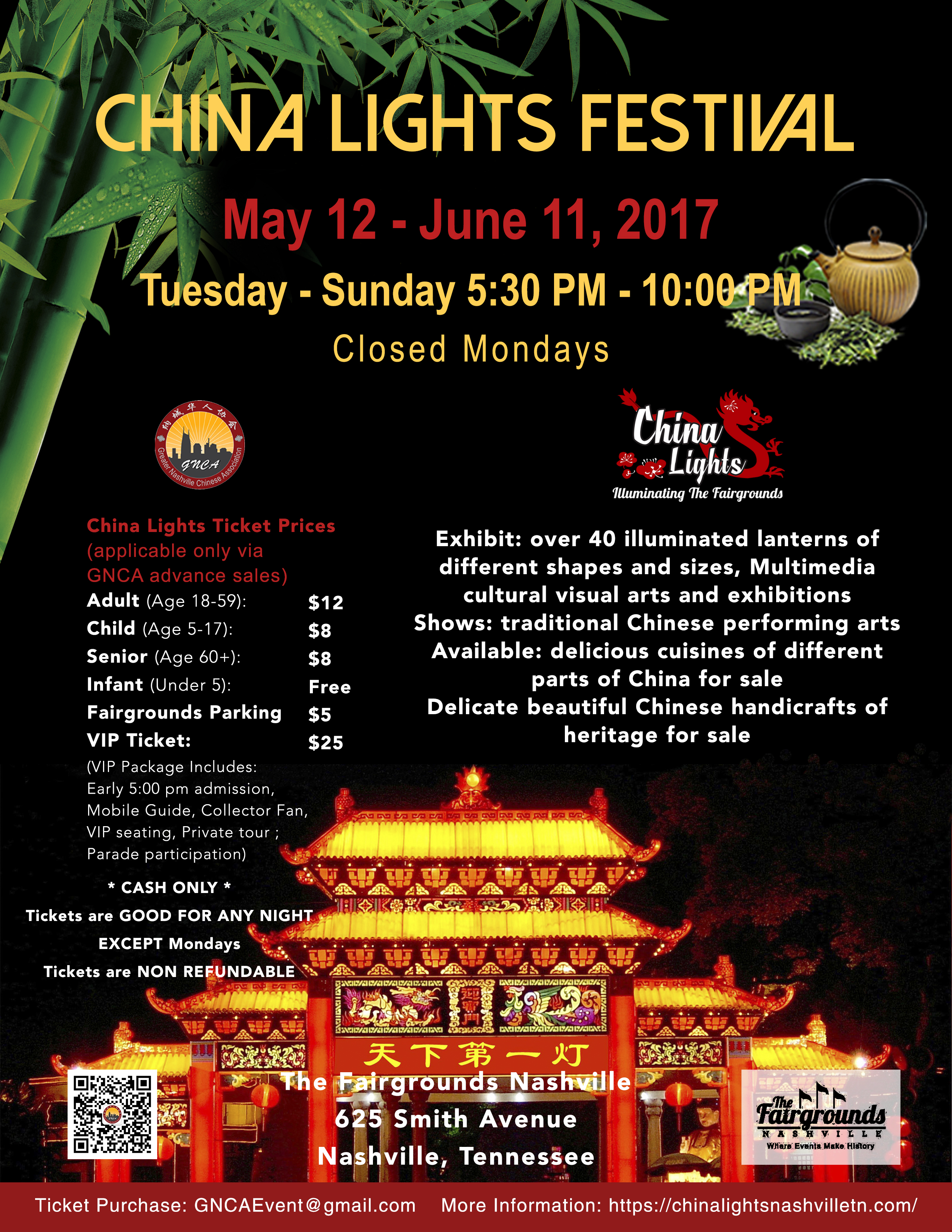 with China Lights at Fairgrounds: On May 27, 2017, Saturday GNCA will host the annual Duanwu Picnic from 2:00-4:30 p.m. at the Nashville Fairgrounds. After the picnic, GNCA guests can enjoy the China Lights Show and Performances at the Fairgrounds. As a co-host of the culture event GNCA is pleased to offer you and your families discounted ticket for both the picnic and the light show.  You can taste gourmet Chinese food such as zongzi (sticky rice with delicious filling wrapped in bamboo leaves) and enjoy spectacular Chinese lanterns and cultural performances by local talents. The sale of the special Duanwu picnic tickets will start now till 3:00 p.m. on May 27. The picnic lunch boxes are of limited supply and are first come first serve to advance ticket buyers.
China Lights Discount Tickets: As a co-sponsor of the event, GNCA has secured discounted tickets for friends and families who could not join us on the Duanwu Picnic Day. The discounted China Lights tickets are valid from May 12 – June 11, 2017 (closed Monday). The Fairgrounds official ticket prices are: $15 (adult), $10 (child/senior), and $30 (VIP). We have limited number of discounted tickets for sale and will have designated sales locations during the weekends. Tickets purchase is cash only and no refund for unused tickets. Please check GNCA website: www.gncamembers.com or email your ticket order or questions to GNCAEvent@gmail.com.
The mission of GNCA is to serve the Chinese community in Middle Tennessee areas, providing a platform for cultural and education diversity among the Chinese and other communities. GNCA welcomes your families and friends to join us in May at the fantastic Duanwu Picnic, performances and China Lights. We hope to meet many new friends and share our cultures together.
Sincerely,
Yan Zhao
President, Greater Nashville Chinese Association GNCA