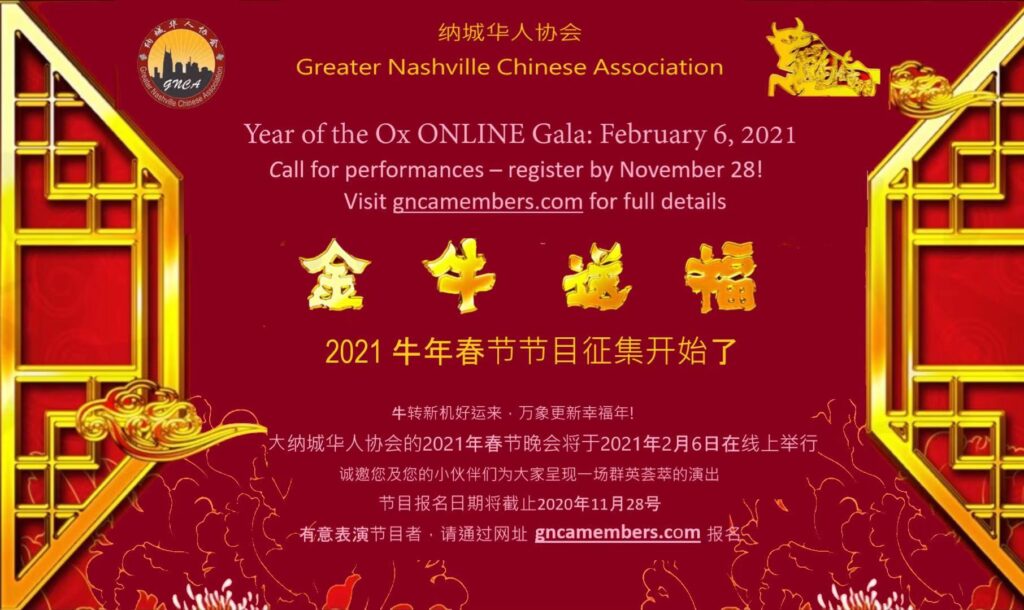 We will host our 2021 Chinese New Year Online Gala on Saturday, February 6, 2021. As much as we have been looking forward to gathering for our largest annual event, it has become clear that a theater full of spectators just won't be possible this year. Fortunately, we know from our last two online events that we can still celebrate the new year as a community, even if only online.
A major part of the show will be videos submitted by the GNCA community. If you are interested in submitting your performance, please fill out the registration form by November 28, 2020.
Our Chinese New Year Gala typically features music, dance, and skits with a Chinese theme, but all applications will be considered. Performances should be related to one of the following main themes:
Singing: pop, folk, a cappella, opera, etc.
Dance: modern, ballet, hip-hop/street, traditional/folk, etc.
Theater: short plays, skits, etc.
Instrumental music
Magic, martial arts, folk art, etc.
Art and design: painting, photography, crafts
Any other unique and creative performances
Once you have registered, the deadline for submitting your video is January 10, 2021.
INSTRUCTIONS FOR VIDEOS
Content should be positive, uplifting, and appropriate for a family audience and Chinese New Year.
Phone videos should be shot in horizontal orientation.
Group videos should be under 3 minutes in length; individual videos should be under 1.5 minutes.
Avoid background noise during recording. When recording indoors, choose a small space to avoid echoes and reverberation. When recording outdoors, avoid background noise from the wind, cars, etc.
Provide adequate, even lighting to avoid harsh shadows.
Keep the background simple and clean. No inappropriate or politically-oriented content in the background, please.
Provide original, full-size versions of any photographs.
We appreciate your support! If you have any questions this year's event, please contact gncaevent@gmail.com.